Version
Download

7

File Size

4.00 KB

File Count

1

Create Date

October 21, 2020

Last Updated

October 21, 2020
Resource Centre: The Employment Contract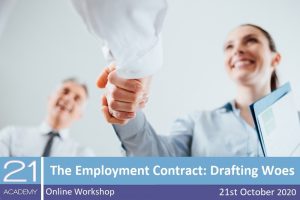 We hope that you enjoyed our webinar and found it interesting. From here you can download the presentation delivered during the webinar, as well as any legislation or regulations referred to during the webinar.
Presentation
Legislation and Regulations
SL 452_83 Information to Employees Regulations
EU 2019_1152 Transparent and Predictable Working Conditions Directive
SL 452_81 Contracts of Service for a Fixed Term
SL 452_108 Employment Status National Standard Order
Cases
Vassallo Cesareo Attillio ei Noe vs Cilia Pisani Anthony
FirstUnited Ltd v Farrugia Wismayer
Albert Falzon vs Melita Mobile Ltd
Wage Regulation Orders
Follow this link to see whether your industry falls under the competence of a Wage Regulation Order.
Contact Us for Information
If you require further information please do not hesitate to contact us on info@advisory21.com.mt ​
Webinars and Online Courses