Version
Download

58

File Size

2.17 MB

File Count

1

Create Date

May 19, 2020

Last Updated

August 11, 2020
The New Normal - Minimizing Risk at the Workplace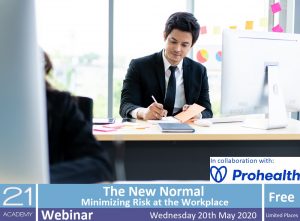 We hope that you enjoyed our The New Normal - Minimizing Risk at the Workplace webinar. You can download the presentations by clicking on the download button. In the meantime please do give us your feedback on the webinar by filling our feedback form.
As announced in the webinar we are offering a free website review you can book your review here.
From the links below you can download legislation referred to during the webinar.
Employment and Industrial Relations Act - EIRA
Occupational Health & Safe Authority Act - Occupational Health and Safety Authority Act
General Data Protection Regulation - GDPR
Contact Us for Information
If you require further information please do not hesitate to contact us on info@advisory21.com.mt ​
Upcoming Courses & Webinars